Product Feature


● Flash-data for every panel
● Positive output sorting
● Tight power tolerance ±3%
● Individual testing and surveying, quality assurance by permanent production control incl. EL-test
● UV stabilized, aesthetically pleasing black anodized frame
● Supported by major mounting structure manufactures
● Chamfered frame-resulting in improved water drainage
● The production facility and process comply with IEC standard 61215, 61730 and UL 1703


About GSA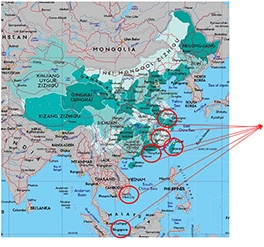 GermanSolar Asia Co., Ltd.
Production locations: China, Vietnam and India
Sales Department: Taiwan, Singapore, China, India, the United States and Africa

Germansolar Asia's main mission is to promote renewable energy – to promote and develop environmental sustainability worldwide. Our collective knowledge, experience, and skills have equipped us to operate as an energy system integrator. We're convinced, based on our past industry involvement and observation, that our fast-changing industry requires rapid resource integration to ensure that we complete our power station construction projects efficiently and effectively.
You see, renewable energy is not just our career, but our cause. We hope to continue working with like-minded people to be sure that sustainability becomes a global reality, for us at GSA, for the Earth, for everyone, always.


Performance
Benefit from even more PV module power with GermanSolar's positive classes in 5 Wp-steps. This means, when you choose our 270 Wp module, you will get modules that are flashed between 270 Wp and 274.9 Wp. With positive classes, our photovoltaic modules are able to achieve an even higher yield, and our customers receive a combination of maximum efficiency and cost-effectiveness in every GermanSolar panel.
Durability
We focus on quality throughout the value chain. By only selecting top quality components from leading manufacturers, we're able to offer comprehensive warranties in a serious way. With our strict in-house quality control, active hot-spot prevention solar technology processes mandate two thermographic pictures on a cell-level to ensure a high quality solar product. By focusing on quality at every step of the way, we can confidently offer our customers durable, green energy products in stride towards a healthier, more sustainable future for us all.
Photovoltaic (PV) Modules
GermanSolar produces high-quality PV(photovoltaic) modules with crystalline solar cells. Rigorous quality control in the cell process and high-class solar module manufacturing ensure first-rate performance in the long term. The solar modules are available in various power classes. GermanSolar guarantees that each PV module achieves at least nominal power and up to 5 Wp above (according to GermanSolar flash data).