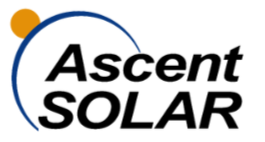 Jul 9, 2013 -

Ascent Solar Technologies, Inc. announced today the signing of a framework agreement for the establishment of a joint venture with the Government of the Municipal City of Suqian in Jiangsu Province, China. The agreement covers a multi-faceted, three-phase project over the next six years.
Under the framework agreement, in the first phase, Ascent and Suqian will form a joint venture entity in which Ascent will have majority interest of up to 80%. The JV will build a factory to manufacture Ascent's proprietary Copper-Indium-Gallium-Selenium photovoltaic modules on flexible thin films. Ascent will contribute proprietary technology and intellectual property, approximately $1.6 million in cash and certain equipment from its Colorado facility. Suqian will provide cash of approximately $32.5 million as well as rent-free use of a 270,000 square foot factory that is currently being built in the Suqian Economic and Industrial Development Science Park. This factory is expandable to 1,000,000 square feet for phases two and three of the agreement. The total project size of Phase one of the alliance is expected to be approximately $160 million. Ascent will have the right to purchase the factory anytime within the first 5 years at the initial construction cost, as well as the right to purchase Suqian's ownership interest in the JV for a modest nominal cost above Suqian's cash investment.
Suqian will also provide a package of additional incentives including a multi-year corporate tax holiday, coverage of substantial operational costs for scientists, engineers and management personnel, and significant housing subsidies and tax incentives for key employees of the JV. As Phase two and three of this program are implemented, Ascent will have the option to purchase approximately 1.3 million square feet of land zoned for commercial usage at a favorable cost, as well as the right to arrange sale or lease of land and factory rights to suppliers and support industries brought in by Ascent, which may generate additional meaningful cash flow for the JV.
"This partnership is a strong endorsement of Ascent's industry leading flexible CIGS technology," said Victor Lee, President & CEO of Ascent. "This partnership enables us to accelerate our paradigm shift into consumer electronics and specialty market applications given China's very large and growing consumer base and readily available contract manufacturers for our EnerPlex range of consumer products," continued Lee.
"We are very excited and honored to be partnering with Ascent Solar," said Mr. Lan Shao Min, Top Leader & Governor of the Municipal City of Suqian. Mr. Lan continued, "The Suqian Government is fully committed to this partnership and shall provide the utmost support and incentives to Ascent. We are convinced that CIGS, and more specifically Ascent's proprietary CIGS technology utilizing a flexible plastic substrate, is the next breakthrough in photovoltaics. The aim of our alliance with Ascent is to build a state of the art industrial park in Suqian for solar and solar-related products, anchored by the Ascent factory, but including equipment suppliers, contract manufacturers and other supporting industries."
Amit Kumar, Chairman of Ascent, said, "We are pleased with our alliance with Suqian. The funding and other subsidies will enable Ascent to develop the scale of manufacturing needed to bring the cost of CIGS down substantially. The combination of cost reduction and our higher margin EnerPlex products and other specialty market applications will allow Ascent to carry on to its next stage as a high-growth company. The alliance with Suqian, as it develops over the next six years, will provide a means for Ascent to build positive cash flow from numerous sources, including control of the real-estate rights in the Suqian Economic and Industrial Development Science Park."