DAH Solar was invited to attend the Intersolar South America, which was held at the North International Exhibition Center in Sao Paulo, Brazil. Exhibiting our Global Patented Product Full-Screen PV Module and innovative product Low-Current PV Modules, a pioneer in the world. Product SolarUnit Smart PV System(AC-Module) is an amazing appearance at this exhibition.
InterSolar South America is an international solar PV exhibition in South America. The exhibition welcomed more than 380 international solar PV professional exhibitors. DAH Solar located at Booth B1-40 attracted many visitors with innovative and unique PV modules and system products, highly appreciated by experts, distributors and users.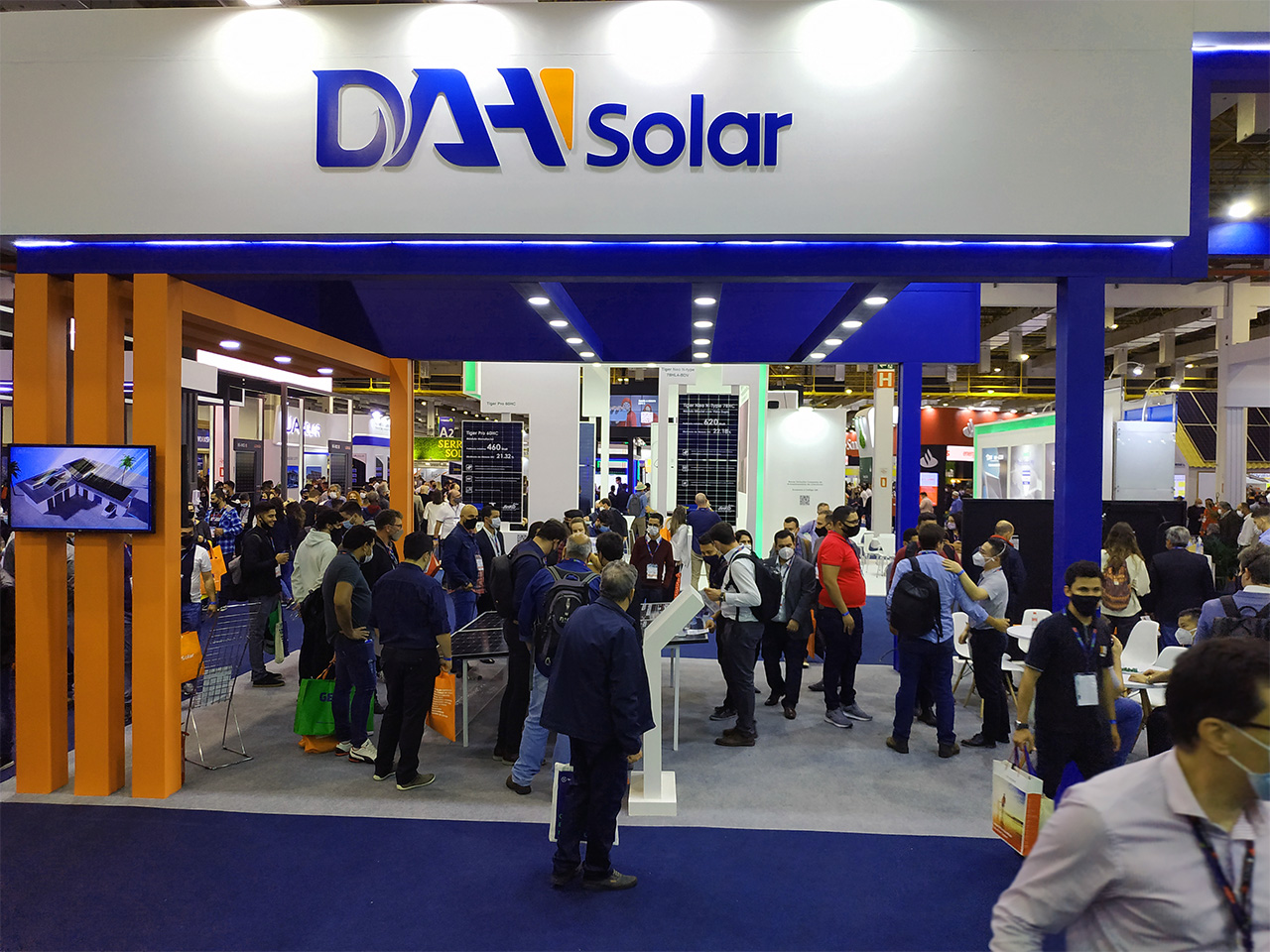 Full-Screen PV Module-No residue of water and dust, power generation can be increased by 6.15%+ compared with ordinary modules
There is no frame on the front side, it is just a whole piece of glass, and the overall design is similar to the full-screen mobile phone we use. The side adopts a curved frame, which not only has a good anti-collision effect on the modules but also has a more beautiful appearance and a better handling feel. Full-screen module has no height difference between the frame and the glass, no residue of water and dust. Powerful self-cleaning ability.
In addition, the full-Screen PV Module adopts a unique and innovative structural design to make it have the same reliability as regular modules. This is also one of the core technologies of the Full-Screen PV Module. According to the TÜV laboratory's damp and heat, high and low-temperature cycle, mechanical load, and combined rigorous tests, the Full-Screen PV Module has excellent waterproof performance (IP68) and mechanical load performance (5400Pa on the front and 2400Pa on the back), According to the climate characteristics of different regions In the outdoor demonstration test, the Full-Screen PV Module can increase the power generation by more than 6.15% compared with the regular module, and won the TÜV Outdoor Demonstration Quality and Efficiency Award.
This full-screen technical is suitable for all DAH solar modules,In addition, At the beginning of the design, compatibility with the mainstream modules on the market has been considered. Therefore, as long as the full-screen patented technology and process of DAH Solar is adopted, it is enough to apply the full-screen technology to modules of various layouts and sizes.
Low-Current PV Modules-Higher power, lower loss, higher power generation
At this exhibition, DAH Solar has exhibited another innovative product -Low Current PV Modules. The 1/3 cut process effectively reduces resistance loss, with more cell gaps and higher reflection efficiency, resulting in higher module power. Compared with half-cell modules, the power of a single module can be increased by 10W. Therefore, under the same installation area, the installed capacity of Low Current PV Modules is 1.82% higher than that of conventional half-cell modules. In addition, the operating current of the Low Current PV Modules is 8.41A~8.83A, which is lower than the regular182 module. The Low Current PV Modules have low power loss and can increase the system power generation by more than 1.5% compared with the regular module. Good system compatibility allows Low Current PV Modules to be well-matched with existing inverters and systems, especially for PV systems below 20KW, which can effectively reduce system costs and electricity costs.
SolarUnit-Pioneer in the world, complete solar system integrating modules and inverters
The exhibition focused on the SolarUnit Smart PV System(AC-Module) created by Solar. This product adopts an integrated design of modules and inverters. Two modules match an inverter to form a complete set of For PV systems, each system does not affect each other, and there is no restriction on the installation angle. Therefore, users can make full use of their roofs, increase the total installed power, and provide users with sufficient power generation. At the same time, since each set of systems will not affect each other, in the case of abnormal power generation of some solar panels, other systems will still generate power normally. Therefore, the annual power generation will increase by more than 25% compared with the string system.
For the SolarUnit's modules and inverters, between inverters and AC terminal are all installed with Pluggable connection, which greatly reduces construction time and installation costs, and saves costs for users. At the same time, in order to facilitate users to manage their own power stations at any time, and to improve the safety of the system, SolarUnit is equipped with remote DAH intelligent cloud monitoring, support to the remote one-key shutdown of mobile phones,Users can manage each system through the SolarUnit APP and check the operation of the power station at any time.
In addition, the solar panel used in the SolarUnit all use the company's patented full-screen solar panels, which are not only more beautiful but also can effectively increase power generation, reduce solar panel cleaning frequency, and operation and maintenance costs.
DAH Solar pursues to continuously bring innovative and valuable products to the market and customers.
InterSolar South America 2021, DAH Solar Global Patented product Full-Screen PV Module and SolarUnit AC Module are widely recognized by Brazilian customers.
SolarUnit- Design-free power station, a complete smart solar system integrating modules and inverters.
In the future, DAH Solar will provide customers with safer, more efficient, and intelligent PV power generation system solutions with innovative products.